Machine translation 
and where it can be used
Machine translation systems continue to grow in importance in the everyday life of translators. There are many reasons for this: shorter throughput and turnaround times, lower translation costs and the ability to translate documents that would simply be too expensive unless a machine translation system was used. Machine translation systems can drastically reduce the time required to launch products in foreign markets or create a multi-lingual flow of information which then creates an ever-growing flood of information that can be used by all participants in those markets. This data not only encompasses texts such as technical documentation, operating instructions and product information, but also data that is generated in the Internet, online forums, social networks and online shops. This data often has to be available in several languages because the recipients expect to see information in their own language. Traditional translation methods are no longer capable of processing this overwhelming flood of data.
Another area of application for machine translation is to provide translations purely for information purposes, a procedure also known as "information gisting". In this case, a translated précis of the target text is created without claiming that it is linguistically accurate. These raw translations can often be produced to a fairly satisfactory standard by using online translation tools such as Google Translate, DeepL, etc., but with the serious disadvantage that it is impossible for the provider to know how the data is used for online translation, or how it is secured.
Using
machine
translation in your company
However, there is no doubt that machine translation systems are a great help in handling enormous volumes of data. Although the use of machine translation systems for online forums and for the sole purpose of acquiring information usually requires very little or even no editing, texts that are to be published are quite another matter. In this case, the content of the text must be translated both accurately and appropriately, and the raw translations will need post-editing, to a greater or lesser extent. Whether, and in what form, machine translation is used in your company, and for what purpose, is a matter to be carefully analysed and evaluated on an individual basis. At the end of the day, the decision for or against machine translation involves a cost/benefit analysis and the issue of how well it would be accepted in your company.
oneword can help you here by analysing, implementing and running machine translation processes and providing professional post-editing to revise the content. To help you make up your mind about using machine translation, we can analyse and evaluate its feasibility, depending on your own particular starting point. We will discuss your aims and requirements, and investigate how suitable machine translation would be for translating your content. We will then run workshops about how to work with machine translation systems, what requirements need to be met, and show you where best to use them to get the full benefits.
Personal consultation on strategic, procedural, technological and content-based issues
Technology consulting: neural versus statistical machine translation systems, cloud-based versus local machine translation systems
Professional light/full post-editing according to post-editing quality standard ISO 18587
Optimisation of your machine-generated output
Optimisation and integration of terminology databases/glossaries and translation memories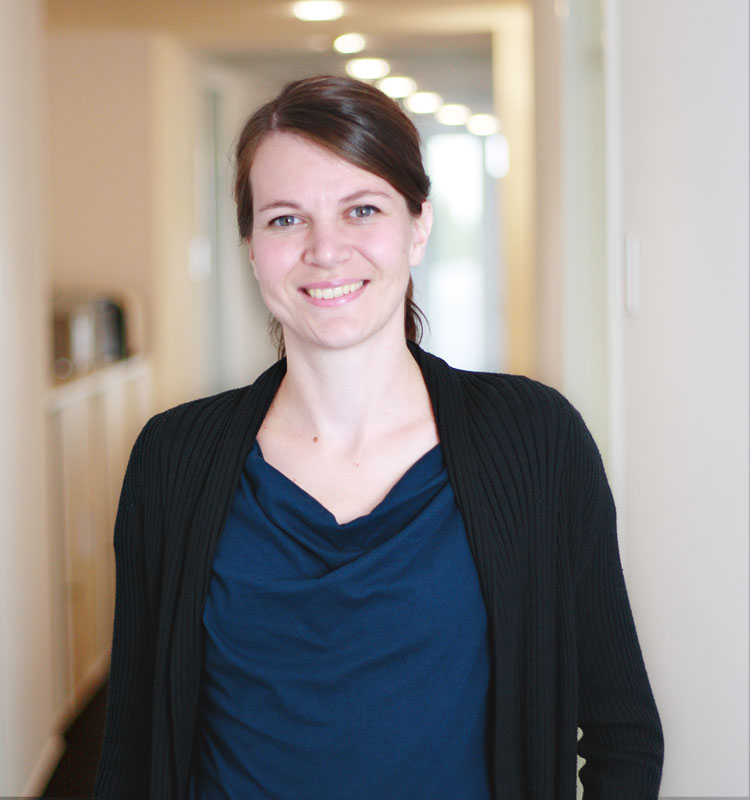 Machine translation – yes or no? A strategic question
Deciding whether machine translation is suitable for use in your company is primarily a strategic question, and involves weighing up the costs and benefits. Machine translations are absolutely unbeatable when it comes to speed. However, machine translation output often requires a degree of post-editing and usually doesn't come close to the quality of traditional translations, i.e. those created by human beings. Even with post-editing, the combination of machine translation + post-editing is not just a "cheaper version" of a translation. Everyone involved in the process must be aware that post-editing and translating are two quite different tasks. Whereas a translator's work is based on the source text, a post-editor's main concern is the target text. The client has a significant degree of shared responsibility for the quality of the target text, because the client defines the quality levels to be achieved, and decide how much time, effort and money is to be invested in the post-editing process. If you then take the need for full-scale post-editing into account, you could legitimately ask whether using a combination of content management systems (CMS) + translation memory systems (TMS) + reusing existing translations is actually more cost-effective than using and training machine translation systems plus post-editing. In any case, it is always advisable to perform a feasibility study, along with a cost/benefit analysis.
We will be happy to help you work out the best economically effective long-term strategy for your company.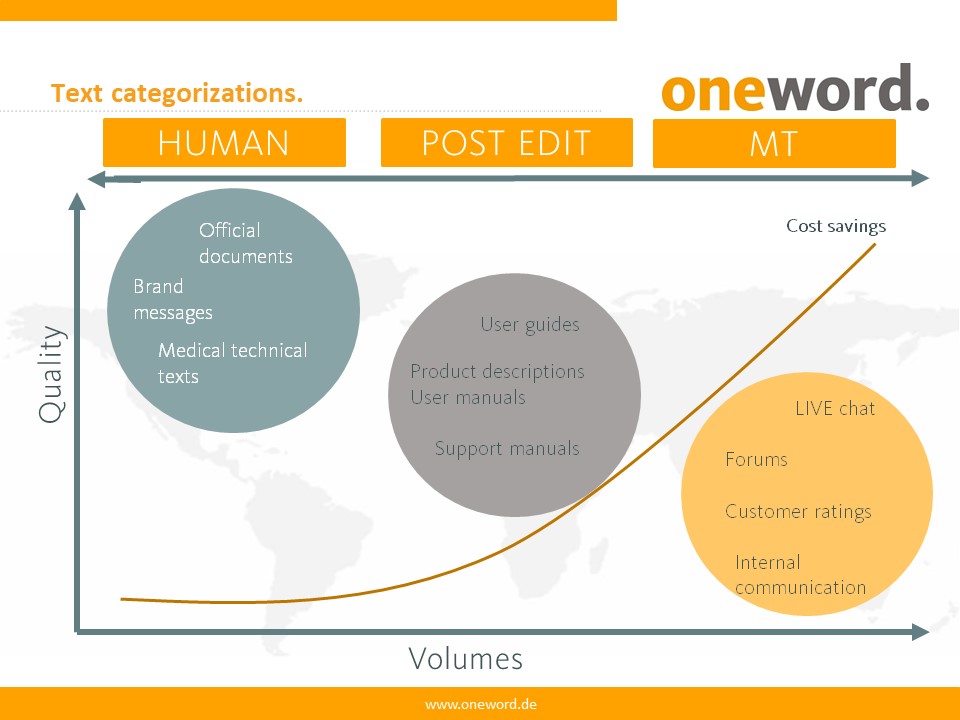 The use of MTPE is often a strategic consideration and based on a cost-benefit analysis. It quickly becomes clear: Not all texts are equally suitable for machine translation due to their specification and the risk and quality requirements involved.
We would be happy to support you by working with you to develop the best strategy that is the most cost-effective in the long term.
Standardised and computer-aided translation processes
8 good reasons to choose oneword.
Learn more about what we do and what sets us apart from traditional translation agencies.
We explain 8 good reasons and more to choose oneword for a successful partnership.