Machine translation systems offer many advantages
Machine translation (MT) has become a standard feature of the translation industry and offers companies numerous advantages:
Shortened time-to-market cycles: Information products can be distributed in many languages much faster – even at large volumes
Reducing internal language barriers: Via non-legally binding convenience translations for internal communication and further processing, MT also opens up global communication channels within a company
Making target group communication useful: Advantageous comments on social media and in product evaluations and reviews can be cost-effectively transferred into foreign languages
Information gisting: Acquiring information only from texts in the foreign language in order to understand the core messages
Cross-sector use: MT offers significant added value for many industries by bringing cost and time savings
The basic principle is always the same: Machine translation systems (engines) automatically transfer a source text into a target language without the assistance of a professional translator.
However, different MT systems and modes of operation bring different advantages in the workflow, the automatic output and the achieved quality.
We provide you with an overview of the various MT systems and show you which technology is currently the most promising.
MT systems at a glance: We will show you what the individual systems can already do
The market for MT systems includes statistical (SMT), rule-based (RBMT) and neural (NMT) systems as well as hybrid forms of these. The systems work in different ways to translate a source text. oneword will give you a brief overview and show you which technology is the most promising at present.
Rule-based machine translation systems (RBMT)
Analysis and translation of the source text using extensive dictionaries and grammatical rules
The deeper and more sophisticated the linguistic rule systems, technical vocabulary and dictionary for the language pair in question, the more precise the final result will be in terms of correct vocabulary, grammar, syntax, accuracy of content and general comprehensibility
The flow and style remain quite mechanical
It may seem like a constructed text
This approach and its hybrid forms form the basis of applications such as Systran, Promt, Babylon or Apertium.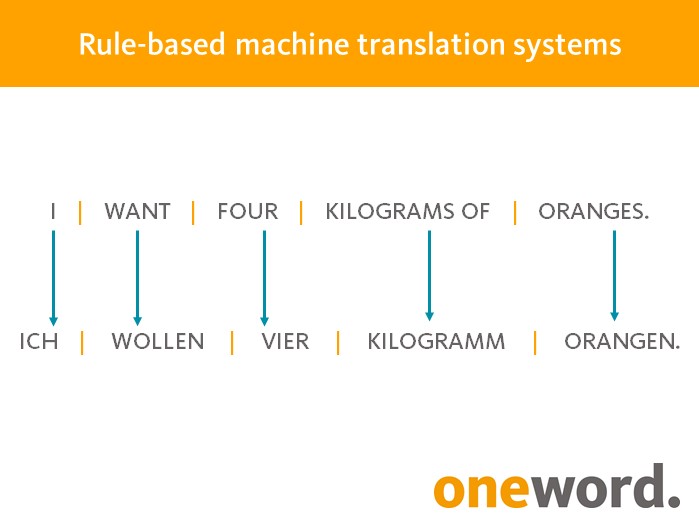 Statistical machine translation systems (SMT)
This system is based on an extensive corpus of existing texts for a language pair
The bilingual sentence sets are (quantitatively) analysed in a statistical procedure in terms of frequency and concordance and are compared with the text to be translated
The most similar sentence fragments from this analysis are combined to form a translation
Usually catchy in terms of style and clear to read
At a certain reference text volume, the translation quality drops again as the analysed concordances then become too arbitrary and unclear
Often incomplete and misleading in terms of content as syntactic references are sometimes not reproduced correctly
This method is the basis for translation providers such as Google Translate, KantanMT, Asia Online or Yandex Translate.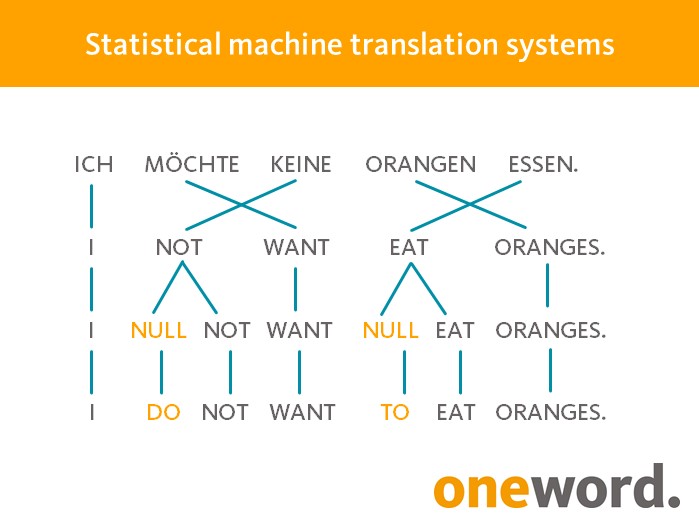 Neural translation systems (NMT)
Combines the components of a language according to the principle of qualitative similarity
Analyses conceptual contexts of language elements in large text corpora using deep learning algorithms
Multiple neural processing layers and statistical techniques help to create an abstract language model which in turn can be transferred to texts that have been entered
The probability principle underlies the output and application of this learnt model for the target language
Short sentences are transmitted fluently and almost perfectly in terms of idiomatic expression, and the correct vocabulary.
More complex sentence constructions, specialised terminology and words that are rarely seen are not adequately transmitted even with NMT
Misinterpretations, omissions, incorrect sentence references or inconsistencies
Due to the high computing power involved, high-performance servers with powerful graphics processors must be used for neural translation machines
This method is the basis for translation providers such as Google Translate, KantanMT, Asia Online or Yandex Translate.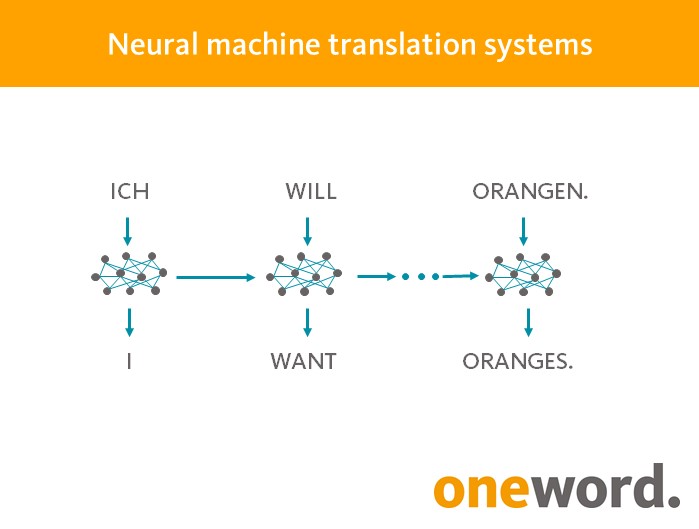 Recurrent neural networks vs. convolutional neural networks
Currently, there are two different neural translation systems that differ especially in terms of their underlying training data:
Recurrent neural networks (RNN) were developed in 2014 as part of speech recognition research. They use a sequential procedure with arbitrarily long inputs based on whole words.
Convolutional neural networks (CNN) were developed from the deep learning methods of machine processing image and audio data. When training the machine, fixed quantities of morphological word fragments are processed simultaneously on many layers.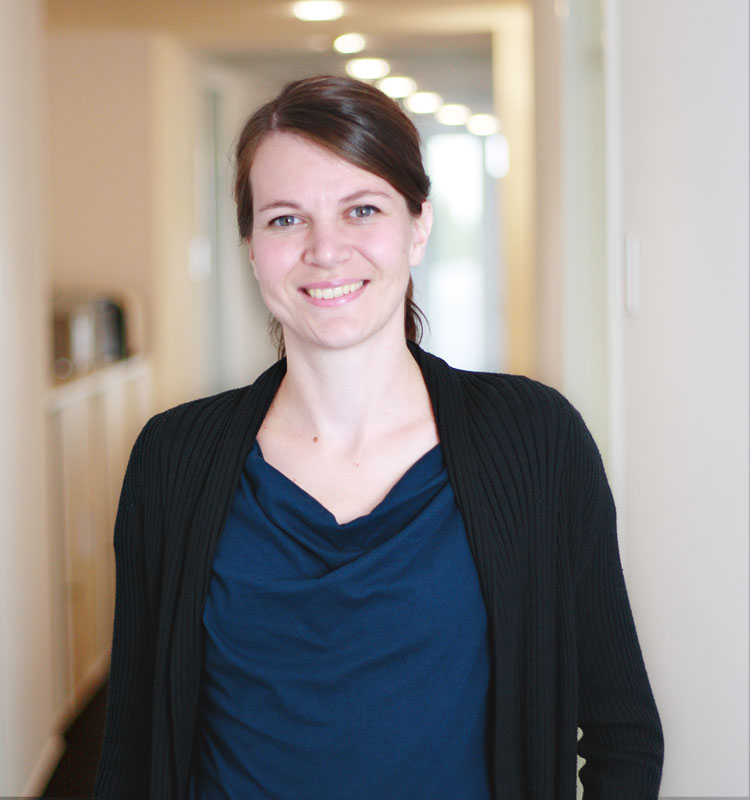 Conclusion: Statistical, rule-based or neural translation systems?
Despite their weaknesses – and these already show that research into artificial language intelligence is far from over – neural machine translation methods are best suited for translating a wide variety of text types. On average, they produce the most convincing results.
A glance at the past also shows how machine translation has developed over time. Neural machine translation systems represent the most advanced and latest technology – building on RBMT (around 1960) and SMT (around 2000):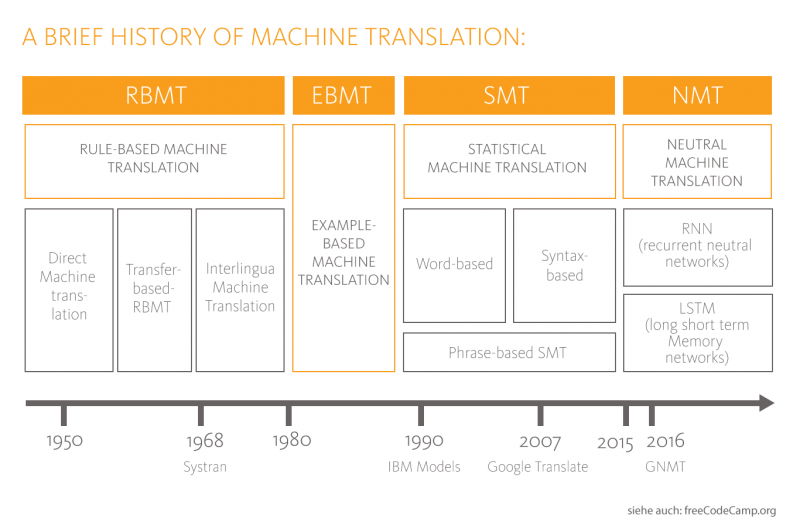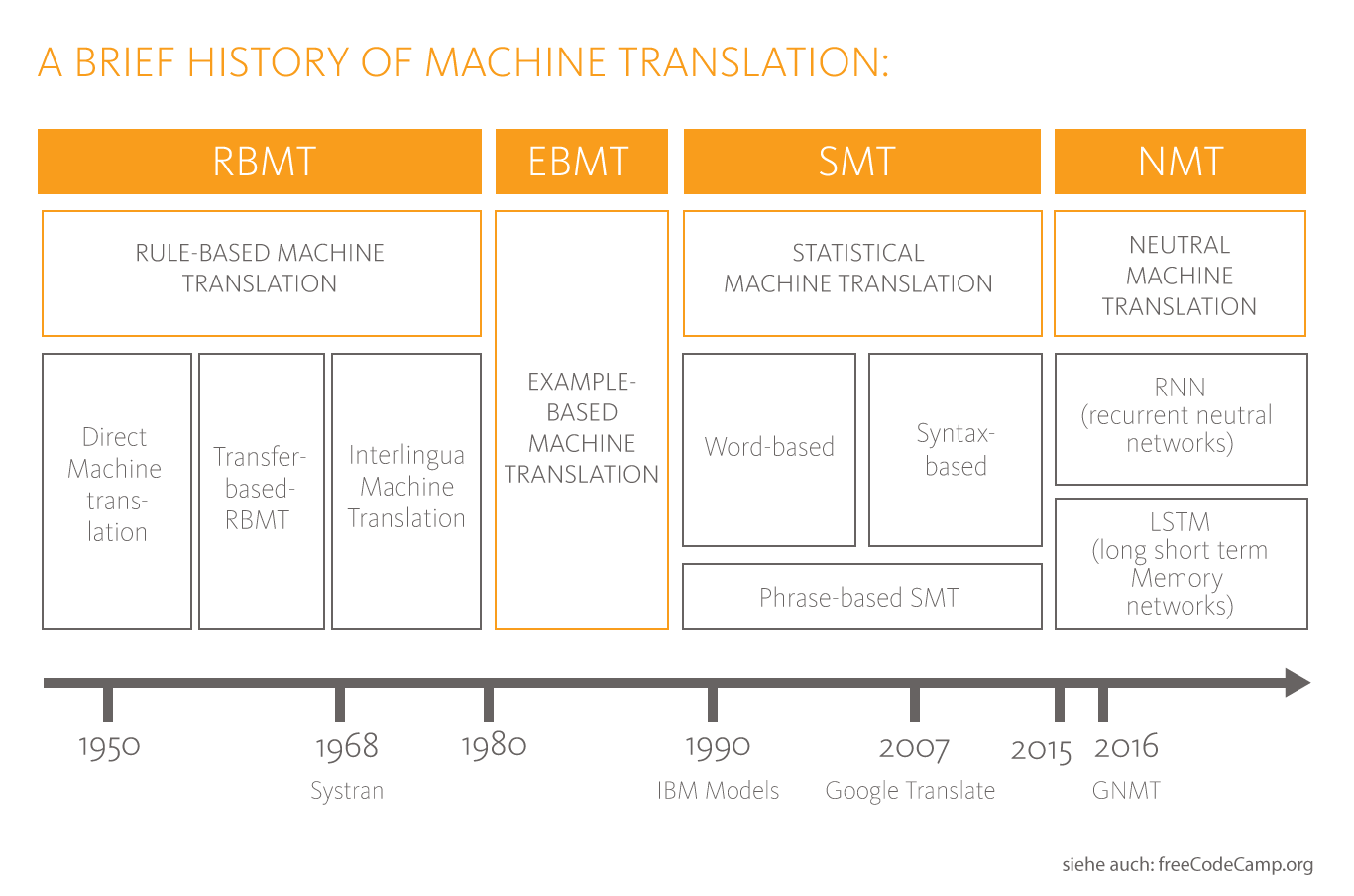 In the meantime, however, providers are also starting to combine intelligent hybrid solutions of rule-based and statistical translation technologies with neural networks. These providers include Personal Translator or Systran Pure Neural Machine Translation. Statistical RNN translation engines are used by Microsoft Translator and Google Translate. On the other hand, providers such as DeepL and Facebook use machine translation technologies based on the CNN principle.
And which engine is best suited for your requirements? We are happy to advise you!
8 good reasons to choose oneword.
Learn more about what we do and what sets us apart from traditional translation agencies.
We explain 8 good reasons and more to choose oneword for a successful partnership.