Post-editing of machine translation output
The use of machine translation systems (MT systems) is becoming more popular all the time. This trend is being driven by the ever greater requirements and steady rise in volumes in the translation and localisation industry. Businesses recognise that machine translation systems are a potential and workable solution for translation projects, which can deliver results in a shorter time-frame or on a smaller budget. As a result, the main reasons for the use of machine translation and the growing demand for post-editing are costs and time, in other words increasing translation productivity and reducing lead times.
What is post-editing?
Post-editing (ISO 18587) refers to the checking and correction of machine translation output by an experienced post-editor or professional translator, who requires special training or certification in order to provide professional post-editing services.
The new standard DIN ISO 18587 for 'Post-editing of machine translation output' specifies the qualifications that translators need and the exact requirements for professional post-editing.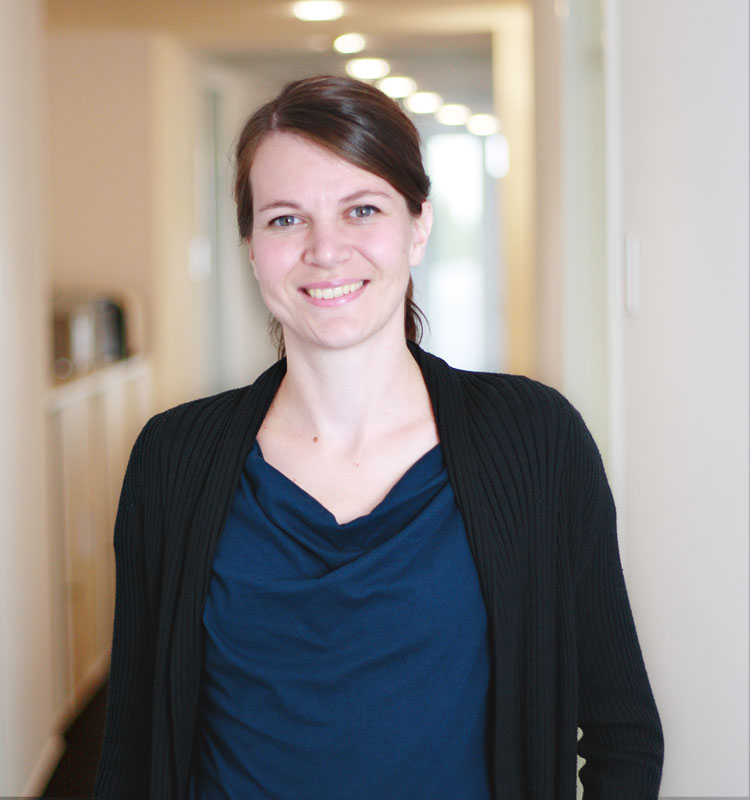 Light and full post-editing at oneword
To offer our customers a post-editing service tailored to their needs, we have designed a range of packages which all conform to the relevant standards. For professional post-editing we distinguish between different levels of rework for machine translation output – depending on how close the machine translation needs to be to the work of a good human translator. The level of post-editing is always aligned to the client's needs or quality requirements. We offer two post-editing levels 'full' and 'light' post-editing.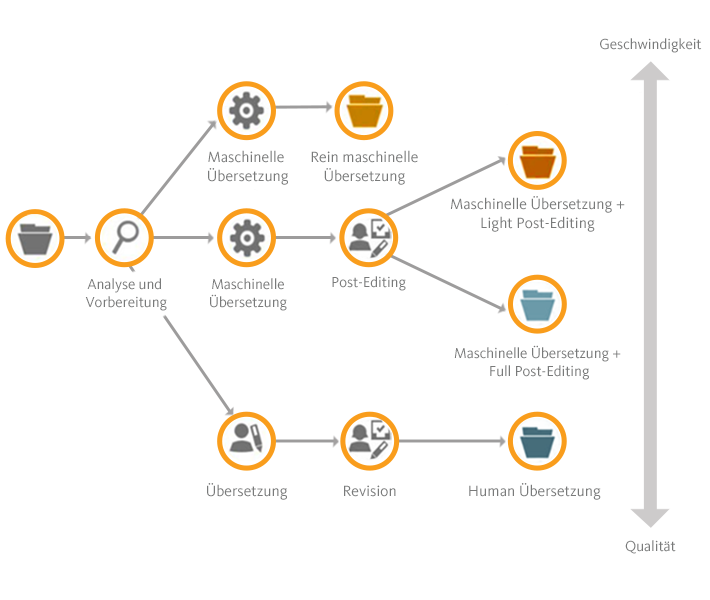 Light post-editing involves fast editing and correction of machine translation. The aim is to obtain a text that can be understood and is correct in terms of content, without necessarily having the quality of a human translation. Any linguistic corrections to spelling, grammar and style will not be made if the target text can be understood with the linguistic errors it contains.
Only errors that distort the meaning are corrected.
Grammar and spelling errors are tolerated.
The style need not be uniform.
The punctuation does not have to be perfect.
The aim is a comprehensible text without maintaining high quality standards.
For full post-editing, the machine translation should be edited and corrected so that, once completed, it does not differ from a human translation. Nevertheless, as much of the machine output should be used as possible. The post-edited result must be comprehensible and stylistically appropriate, and must contain the correct syntax, grammar and punctuation. For full post-editing, the post-editor concentrates on:
Adopting as much of the machine output as possible
Ensuring that no information is added or omitted
Editing unsuitable content
Rewording sentences if the meaning is incorrect or unclear 
Producing a grammatically, syntactically and semantically correct linguistic text 
Complying with customer or domain-specific terminology 
Complying with spelling, punctuation and hyphenation rules
Ensuring an appropriate style
Complying with the customer's specifications (style guide) 
Applying formatting rules   
The bottom line: Is post-editing worthwhile?
It is already clear: not every text is suitable for machine translation. As soon as the time and effort required for full post-editing becomes extensive and unnecessary machine errors that the human translator would have avoided from the outset need to be corrected, it must be clarified how useful the involvement of machine translation is for you and your requirements in a given case.In initial discussions, feasibility studies and test runs, we can work together to determine the extent to which MT is worthwhile for you and what degree of editing is right for you.
One goal – two ways to get there:
Increase translation quality with light or full post-editing
We will determine with you individually which grades or gradations between the levels are suitable for you or whether further process steps need to be added – we are happy to do this as part of a workshop or personal discussion.
Definition of aims and editing guidelines

Personal project management of your post-editing projects with a named contact person

Qualified, native-speaker post-editors

Processes that comply with the post-editing standard DIN ISO 18587

Optimisation of machine translation output and continuous feedback
Thanks to our team of professional, specially trained post-editors and our processes that correspond to the ISO 17100 quality standard and the DIN ISO 18587 post-editing standard, we can offer you a full range of services for post-editing your machine-generated translations. We discuss your needs with you to define your requirements and then, through regular feedback from our post-editors, continuously improve the quality of your machine translation system.
Enhance the quality of machine translations
Post-editing is an indispensable step for machine translation output.We also offer specific measures tailored to your individual requirements to help you increase the quality of your machine output. The amount of editing required depends not only on your aims and requirements but also, crucially, on the quality of the original text, the training material for the translation engine, the quality of the machine output and the regularity with which the artificial intelligence behind the machine translation is improved. Much of this is based on structured feedback from the post-editor.
How we help you achieve better results:
Definition of aims

Definition of final quality
Specification of editing level
Creation of editing guidelines
Feedback

Regular feedback on systematic errors in MT output
You may also be interested in
Machine translation has become an established part of the world of professional translation. For many businesses, it provides an opportunity to translate larger volumes in a shorter space of time. To make sure that this 'speed translation' doesn't impact on quality, we are here to help with our project management, experienced post-editors and structured processes that comply with DIN ISO 18587.