We ensure translation quality at every stage of the process
We believe the customer's specific quality requirements take top priority, which is why we tailor our quality assurance workflow to your exact needs. Because we apply a multistage quality assurance process based on ISO 17100 guidelines and enhanced by our own comprehensive measures, we significantly exceed customer expectations on a regular basis – and at no additional cost.
The quality of our translations is influenced by four factors: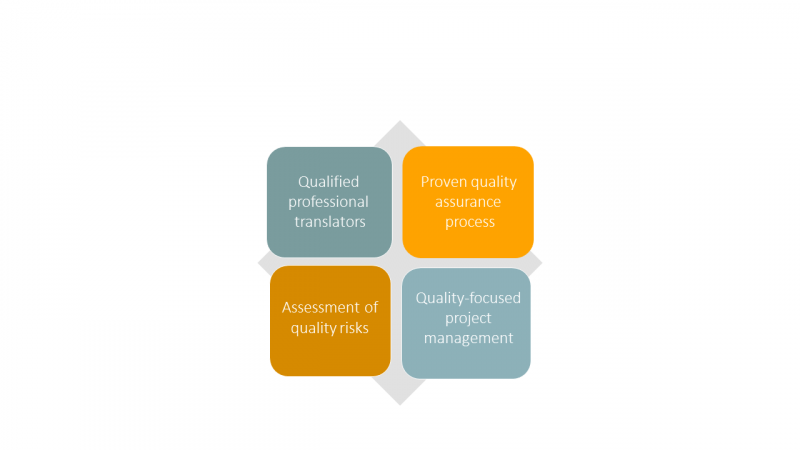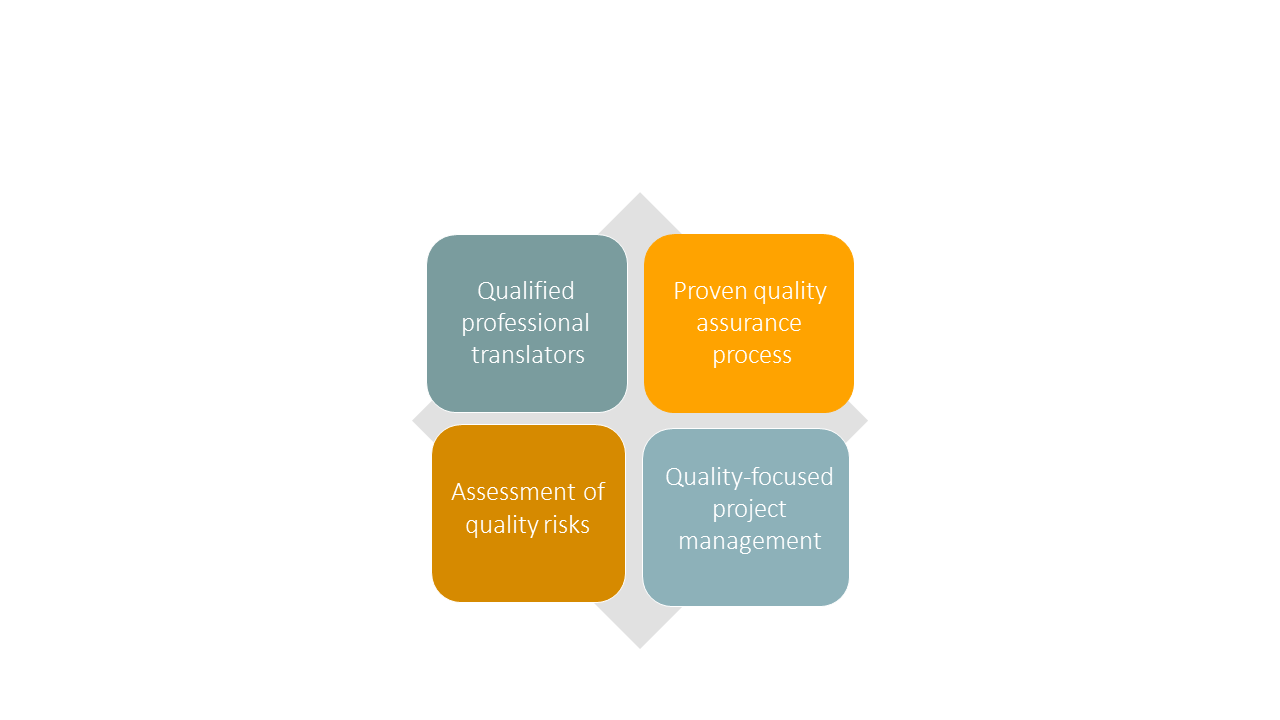 Qualified professional translators
Our quality assurance system includes all the guidelines of ISO 17100 as minimum requirements. The standard defines a check by the translator of their own work and revision by a second translator, the reviser, as mandatory minimum requirements for high-quality translation. Your translation is checked for linguistic, terminological, stylistic and grammatical errors, including consistency. But for us, this 'four eyes principle' is no less important to quality assurance than the linguistic qualifications, professional experience and specialised knowledge of the translator and reviser. In this sense, quality assurance begins even before we start working on a translation project with you, because it starts with the careful selection and qualification of our native-speaker professional translators.
In choosing our translators, we focus on the following criteria:
Native speaker residing in the country where the target language is used

At least five years' professional experience as a translator in a specialised area

University degree in translation studies or a related subject

Specialised knowledge in at least one subject area

Technical skills and familiarity with translation technology

Signing of a comprehensive confidentiality agreement

A passion for language, resulting in translation excellence in the interests of the end client
Proven quality assurance process
Each step of the value-added chain is founded on our ISO 17100-compliant quality management system. Our quality assurance measures at a glance: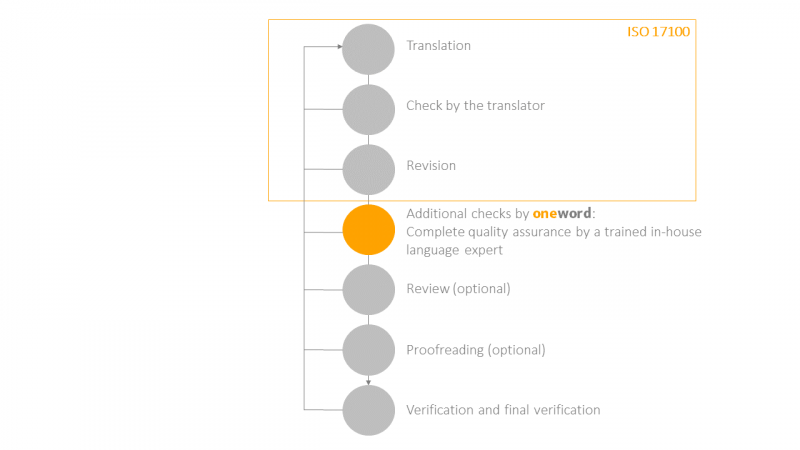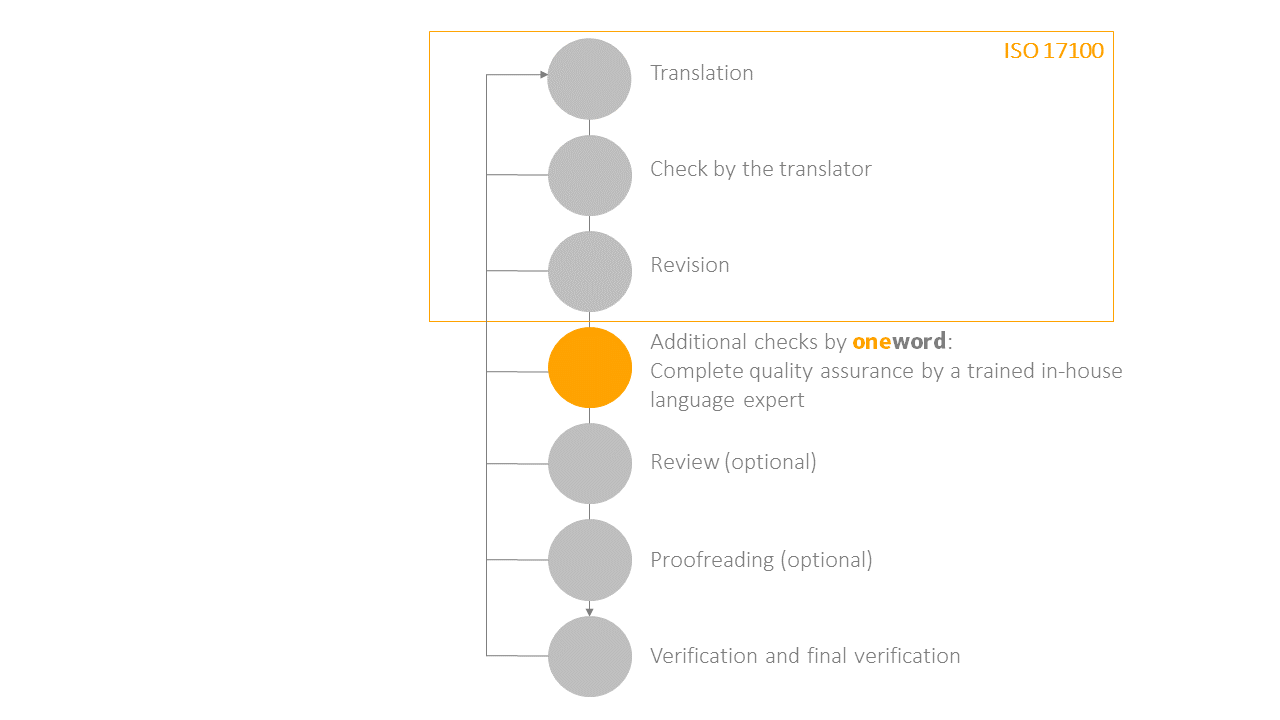 Quality-focused project management
At oneword, quality assurance isn't finished once we have met the ISO requirements. It has always been our aim to deliver the very best translation quality, so additional quality assurance measures that go above and beyond the requirements of ISO 17100 are part of our standard workflow.
Final checks and verification are performed by our in-house language experts in project management, who meticulously check your documents in line with the specific project specifications (client instructions, style guides, terminology, linguistic requirements and other quality objectives). They also develop detailed project plans, are in regular contact with our clients and can always find a solution that avoids delays and ensures high quality.
To work efficiently and deliver the highest quality every step of the way, project analysis is an essential part of the process at oneword. Every project is first analysed by our experts to make sure that any difficulties are identified before work begins and to give the client a reasonable idea of the time required as well as costs and a feasible deadline. The preliminary work includes preparing the project, checking the material provided, and performing a localisation analysis.
Flexibility in responding to customer requirements. Although we use standardised processes, both to ensure the highest possible translation quality and to promote efficiency, we can also adapt our quality assurance process to your individual needs. We note any additional requirements through professional query management and an integrated feedback process. We can design different translation processes and quality assurance steps for individual departments, document types or temporary requirements. This includes agreeing on any additional data protection arrangements that your organisation requires when working with external partners. For fast-lived internal communication that will never be seen by customers, for example, the highest translation standard is not always necessary. On the other hand, when it comes to texts for customer communication associated with high product liability risks, tailor-made quality assurance measures are essential.
Prompt and focused communication. A chain of individual process steps prevents errors so that they don't have to be fixed again later on. That's why we work with translators, the client's revisers and other people involved in the process right at the beginning to optimally define requirements, expectations and the general framework. Training for our teams and additional quality assurance measures help us to prevent localisation errors from the outset and ultimately deliver an excellent product.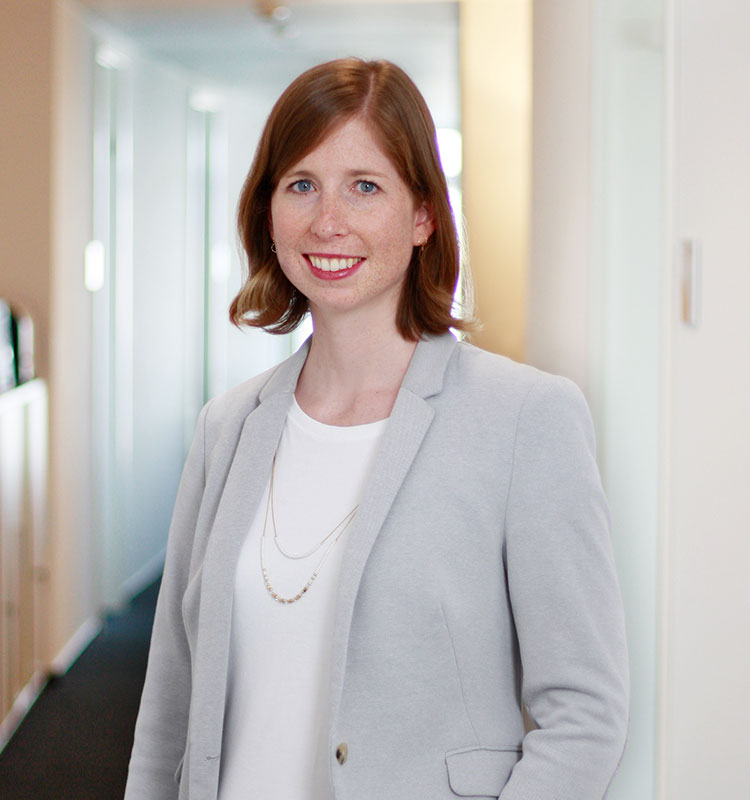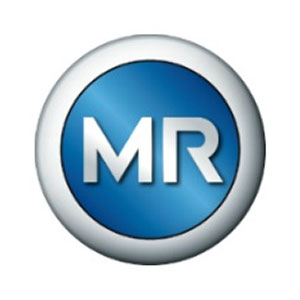 "We've been working with oneword for more than 10 years, and they have always provided a reliable service for our translation needs. By working together to implement continuous improvements, we benefit from a simple process that allows us to plan with confidence, takes the strain off our day-to-day workload and ensures a high level of quality. We also appreciate the fact that enquiries are dealt with promptly, and the team offers flexibility and knowledgeable advice when we have specific requirements."
Risk management: evaluating quality risks
What risks does a company take when translation errors occur in a particular place or in particular documents? For example, to what extent might a translation error in a product catalogue cause a decline in sales or even long-term damage to the brand image or the company's name? Could translation errors in an operating manual result in damage to property or even injury and a risk to life? What quality assurance measures are adequate for a given project to prevent these risks?
Our quality management team adapts the quality assurance process in line with your risk management team's assessment.
Working on the basis of the various risks associated with a translated text, our quality management team will work with you to flexibly design a suitable quality assurance process. Our team of experienced risk scouts can help and advise you with the analysis and identification of risks. Maintaining cost-effectiveness in the translation process is of course an important consideration, but with sensitive documents, comprehensive quality assurance is simply a must. When it comes to communication, the potential risks are far-reaching and could cause significantly more costs in the long term than a meticulously checked translation.
Find more information here
8 good reasons to choose oneword.
Learn more about what we do and what sets us apart from traditional translation agencies.
We explain 8 good reasons and more to choose oneword for a successful partnership.