ISO 17100, Mechanical engineering training and Sending your queries
In recent years, the expression "life-long learning" has increasingly permeated the collective consciousness, progressing from the headlines of major newspapers into politics, and then finally into the ISO 17100 standard. In the standard, the expression "regular training" is used. For this reason, we would once again like to dedicate today's issue to training! After all, you never stop learning…
Today's topics are:
The oneword queries form – asking questions made easy!
ISO 17100 – What needs to be considered?
Training – Online mechanical engineering training course
Have fun reading our newsletter!


The oneword queries form – asking questions made easy!
Feedback is important, and we are happy to get it if it helps produce the best possible translation at the end of the day. Please always use our queries form, to help us manage and process your feedback as efficiently as possible.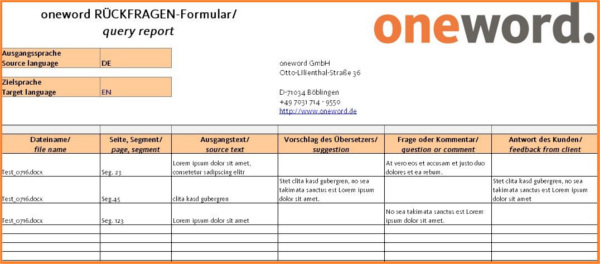 ISO 17100 – What needs to be considered?
oneword has had ISO 17100 certification since February 2016. ISO 17100 officially replaced DIN EN 15038. The final German version of the standard has now, at last, also been released. You can find out how this standard affects your work with oneword below.
Before you start working with oneword:
For some time now, our application process has been based on fixed standards. These ensure that all our translation partners are properly qualified in accordance with ISO 17100, and we document this. Anyone who successfully passes through our application process already meets all these requirements. If you have already been working with oneword for some time, it may be that our Translation Partner Manager Nicole Sixdorf will contact you and ask for copies of certificates and other proofs, so that we have all the necessary documents before the next audit.
Whilst you are working with oneword:
ISO 17100 is a process standard. Anyone who has ISO 17100 certification must ensure that they comply with the standard processes defined in it and any additional customer-specific agreements relating to individual projects. For this reason, it is important that you read the job mails carefully, especially the customer- and project-specific instructions, and take note of them. Supplying a translation "in accordance with ISO 17100" therefore means complying with defined processes and agreements, not that the contracted translator personally needs to be certified, or that freelancers suddenly need a partner to enable them to offer translations including revision (bilingual editing).
Standard tasks involved in providing translations:
transfer of the source language content into the target language
compliance with purpose-, language-, project- and customer-specific instructions and, if relevant, terminology
the translator checks the entire translation
Standard tasks involved in revising translations:
compare the source text with the target text
check whether customer- and project-specific instructions have been complied with
correct the translation if necessary
document feedback (for oneword, using the Feedback form)
Some of our translation partners are agencies or translator teams and are themselves certified in accordance with ISO 17100 (or DIN EN 15038). In this case, it is important to check whether we request the translation with or without revision. The translation has always been produced "in accordance with ISO 17100" if the instructions in the job email have been complied with, even if we request the translation without revision. For example, if the client has explicitly requested no revision, that is the standard to be achieved. If we have requested the translation with revision, the working instructions described above naturally also apply to agencies and translator teams.
These are the two most important terms used in ISO 17100 that you will come across when you get messages from us:
Translation/translate:
This is defined as the transfer of the source language content into the target language. This also always includes checking (the translator checks all of their own translation, including TM matches and QA in Across/Trados).
Revision/revise:
This is defined as the bilingual checking of target language content, comparing it with the source language to ensure its suitability for the agreed purpose (including QA in Across/Trados). This can also be a new translation.
Would you like to find out more about the contents of ISO 17100 or its requirements involving translator qualifications and areas of expertise? Then please contact Eva-Maria Tillmann, who is responsible for our quality management system. Her email address is e.tillmann@oneword.de.
Training – Online mechanical engineering training course
Today we would like to recommend the training courses offered by ³Engineering Translation. They are organised and run by Katrin Reinhardt, who is herself a technical translator. These advanced training courses are specially designed to suit language mediators, and cover mechatronics, electro technology and production technology, among other things.
Online course: Mechanical engineering
(14 hours of training, actual duration 45 min., in 7 online blocks, corresponds to a 3.5-day face-to-face seminar – German and English 50/50)
Basic expertise in the operating principles of mechanical engineering
Fundamental laws of mechanics
Terms such as thread and self-locking, involute, toothing and transmission ratio, fits and tolerances, bearing loads, hydrodynamics and hydrostatics, sliding friction and rolling friction, tribology etc.
Terminology (German/English) and research tips
Technical literature reference list for upgrading your own library
When: 19.09. to 30.09.2016, 09.00 to 10.40 Price: EUR 599 net for self-employed persons for 7 sessions, each lasting 90 min., script and access to webinar recordings for follow-up work.
You can register in the online shop at http://engineering-webinars.de/. Ms. Reinhardt is currently offering a 50% discount until 21.08.2016. To take advantage of this offer, please contact us for a discount coupon (6 coupons available in total).
You will find more information about this and other training at: http://www.engineering-translations.de/technik-verstehen-onlinekurse-f%C3%BCr-sprachmittler/maschinenbau/


Don't hesitate to contact us at any time if you would like to send us any queries, comments or suggestions about our Newsletter and the topics in it: you can e-mail us at partner@oneword.de. We look forward to receiving your feedback!


Kind regards
Your oneword team