ISO 17100 certification and GDPR conformity confirmed
January 21, 2019 was – quite literally – an excellent day for the oneword team. Every two years, an independent auditor checks that the translation service provider based in the Stuttgart area is complying with all the DIN ISO 17100 criteria…
January 21, 2019 was – quite literally – an excellent day for the oneword team. Every two years, an independent auditor checks that the translation service provider based in the Stuttgart area is complying with all the DIN ISO 17100 criteria. ISO 17100 is the world's only quality standard for translation processes. The result is impressive: oneword passed the re-audit with flying colours and Quality Manager Eva-Maria Tillmann was over the moon.
"The team did a great job. We have not only proven that our translation processes are permanently achieving the highest ISO standard, but we have also shown how ISO 1700 quality is consistent with global demands for efficiency, innovation and verifiability. The audit was completed successfully without any complaints or suggestions for improvement! Long may it continue," says a delighted Tillmann, oneword's quality officer responsible for ISO 17100 certification.
Outstanding results for all criteria
The auditor interviewed project managers, management, and representatives of partner management, quality management and IT and scrutinised oneword's processes in detail.
The auditor not only checked that oneword always has translations revised by a second professional translator (read more about this much-discussed and important topic here), but also assessed numerous other process steps and the quality of resources at oneword. The focus here was, for example, on the translation service provider's obligation to provide proof and complete documentation of its translators' and project managers' ongoing training. Other areas looked at included: data protection, IT security, GDPR conformity in the translation process and handling data from potential and existing customers.
All about: The history of certification at oneword
August 2007: Registration with DIN CERTCO and independent declaration to provide translation services that conform to DIN EN 15038:2006
February 2013: oneword receives its first certification to DIN EN 15038:2006 via LICS (Language Industry Certification System)
January 2015: Successful re-audit after two years, which included checking the requirements of the successor standard ISO 17100, which had not been published yet
May 2015: Following publication of the successor standard, oneword was issued an ISO 17100:2015 certificate
June 2016: Audit according to ISO 17100 by an automotive manufacturer, passed with an excellent rating
January 2017: oneword is re-certified to ISO 17100
January 2019: oneword again receives ISO 17100 certification with an excellent rating
Do you know what the small but important difference is between ISO 17100 certification and registration with DIN CERTCO?
oneword is still one of only a few translation service providers that holds an ISO 17100 certification. Many service providers register with DIN CERTCO and thus declare that their processes are in line with ISO 17100. However, this is only a declaration by the service provider itself that it conforms to the requirements of ISO 17100, which is not verified by an independent body. Official certification by Austrian Standards or other institutes testifies to the fact that a language service provider has excellent, independently verified processes in accordance with ISO 17100.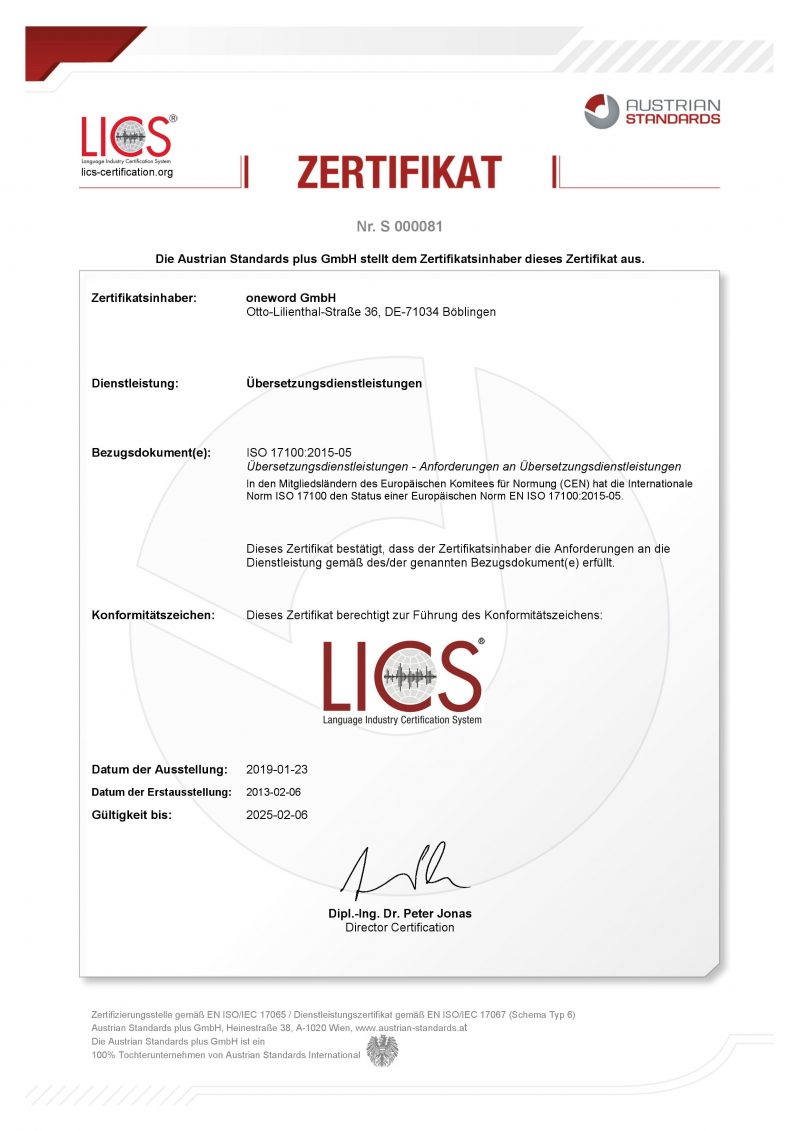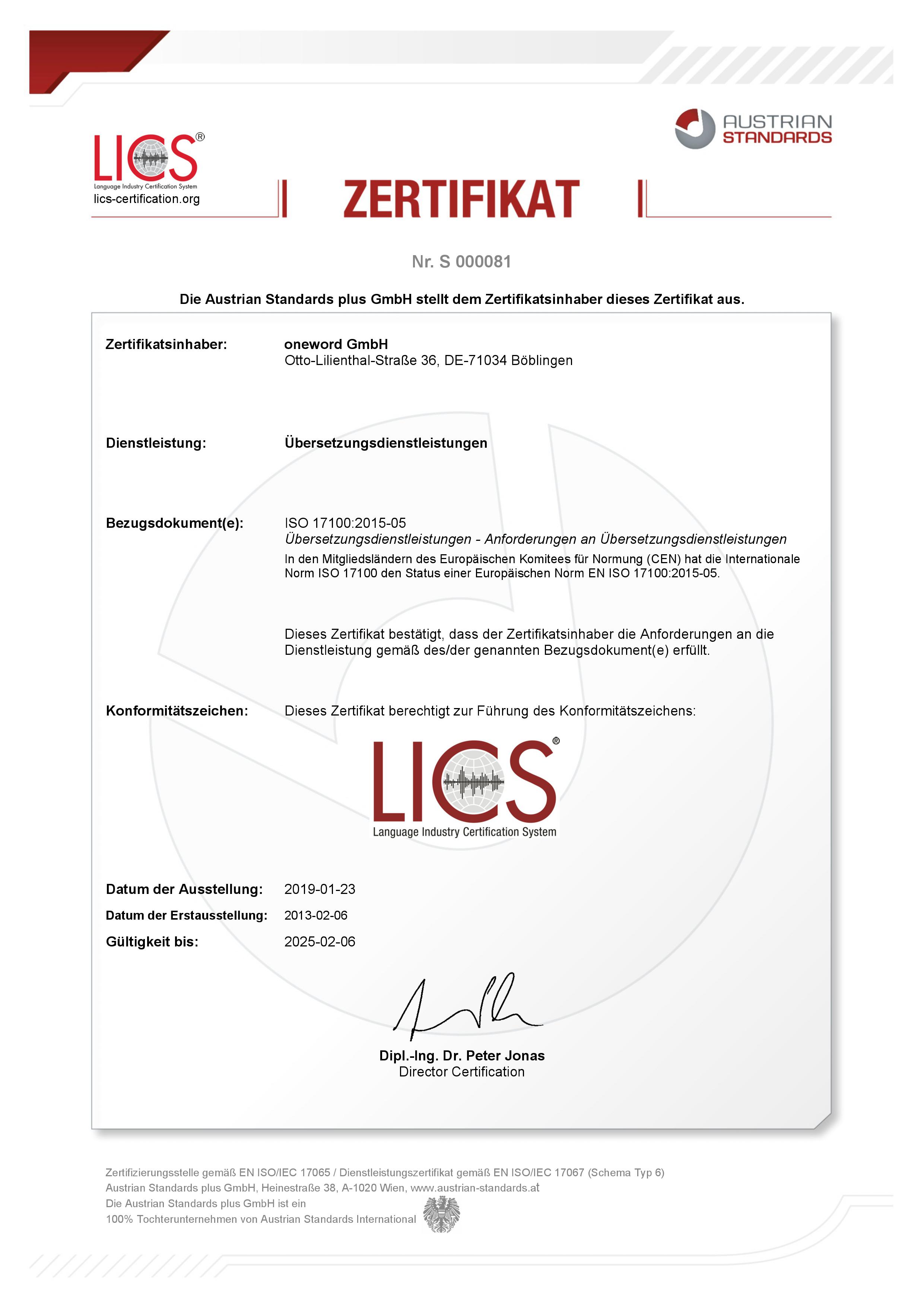 8 good reasons to choose oneword.
Learn more about what we do and what sets us apart from traditional translation agencies.
We explain 8 good reasons and more to choose oneword for a successful partnership.