As a translator for oneword you are: Not just a number in the system
How do you identify a serious translation agency? How can freelance translators, revisors and post-editors be sure that a translation agency is a reliable client? What exactly can freelancers expect when they work with oneword? We provide answers in our blog and, to conclude, offer a practical agency checklist!
Not kind of, but definitely
Being certified to DIN EN ISO 17100 or DIN ISO 18587 not only means that you behave transparently and comply with standards, but also that you offer freelancers a comprehensive package of indispensable security.
Highly qualified, specialised technical translators and revisors are a rare commodity in a sea of semi-professional language enthusiasts and hobbyists. This means that they know their value and expect a collaborative partner that is professional and trustworthy in their working relationship. oneword is therefore committed to certified and transparent processes, not only when working with its customers but also when collaborating with translation partners worldwide. Certification according to DIN EN ISO 17100 or DIN ISO 18587 is therefore a good indicator that the agency is professional, reliable and well respected on the market. With this certification, agencies not only establish clear and transparent processes, but also commit themselves to working exclusively with qualified linguists according to veritable standards that apply explicitly to the translation industry. This dual approach of following internationally recognised, standardised processes and having a professional collaboration between equally qualified people not only makes the process much safer for translators, but, in practice, also significantly reduces the risk and frequency of complaints and recourse as a result of poor quality.
We recommend that every freelancer looks closely at each of the agency's certificates: just because they are registered does not mean that they are certified! Registered service providers are simply confirming that they agree to adhere to each of the standards mentioned in their advertising. Certified service providers are regularly audited by an external certification body. This means that the certificate's date of issue and period of validity should always be up-to-date and time-limited.
In addition to looking at the certificate, it's also worth asking about the individual processes that take place behind the scenes. What happens after the translation and revision have been completed? What do the translation service provider's individual quality control checks look like? Is the translation ever forwarded directly to the end customer without being checked? Although the translation agency has to perform final quality checks as part of ISO 17100, the extent, method and scope of such checks vary enormously from one service provider to another. Asking concrete questions will clarify what the translation agency's processes look like and will also make you feel better and safer.
Furthermore, reliable membership of associations such as the Deutschen Terminologie-Tag e. V., tekom e. V. or elia can be an equally good indication of the integrity of an agency. These associations promote and demand high quality standards and professionalism from their members. oneword is a long-standing member of all the above associations, for example, and actively contributes to shaping the industry with regular lectures and publications.
Personal communication: yes please!
Assigning a permanent contact person and partner to have professional, obligatory conversations with at the agency strengthens mutual trust and reduces avoidable preconceptions and misunderstandings, and is a simple way of showing appreciation.
Especially in times when application processes, project orders and workflows are becoming increasingly automated, personal contact is a sign of partnership and fairness. So that our translation partners and applicants have a central point of contact, our partner managers deal exclusively with their concerns, irrespective of whether they are applicants, junior translators or veterans. We invest a lot of time in clarifying all questions and solving every issue, regardless of whether it concerns our processes, qualification requirements or general conditions. There is always a permanent project manager on hand for each and every project to provide both organisational and technical support.
In this sense, a permanent contact person is another indication of professionalism and cooperation on a level playing field, as it shows that concerns are not simply pushed to the side, but are instead taken seriously and discussed. Freelance translators should therefore always ask potential agencies if and which contact persons are available and, when making initial contact, they should also be happy to talk on the phone.
"Open communication is especially important before the collaboration starts", confirms our Partner Manager Nicole Sixdorf. "Our translators really appreciate the fact that we take time to answer questions and solve problems seriously, even if this means investing more time and effort before the first project is assigned. This allows misunderstandings to be caught early on and the translator to feel well prepared for the upcoming challenges and processes even before their first project begins."
Growing and developing with you.
Going the extra mile is not just doing that "little bit more". It's an absolute must for services that are based on human capabilities: Especially in a rapidly changing translation market, additional qualifications are what guarantee long-term and future-proof employment.
It's important that there are clear procedures and open communication between experts who share a common commitment to high quality, but this is only one side of the coin. The translation market is developing at a rapid pace, redistributing requirements and opportunities. Therefore, in the future, it will be increasingly important to develop alongside the market – technologically, methodically and professionally. A quick look at an agency's website often gives an indication of how well the company is equipped for the future. Here too, it's worth asking specific questions: What does the translation company actually do to further its professional development? Is there any feedback or points of reference given about the work done? Do they have sound training measures and do they provide quick support?
For oneword, the focus is on people and their abilities. That's why values like precision, professional competence and commitment fundamentally shape our company and are reflected in our working conditions.
At oneword, every translation is backed not only by many proven experts working together, but also by a series of multi-stage internal quality controls. Checks and evaluations based on objective criteria guarantee regular and productive feedback that both sides, translators and project managers, can benefit from. We pay particular attention to targeted training and further qualifications in order to permanently align our translation partners with the diverse requirements of our projects and technical prerequisites. Potential problems or conflicts that may arise are always resolved constructively, so that actively developing our freelancers is the main focus. That's why we are committed to long-term collaborations, genuine teamwork and a core translation team, i.e. regularly assigning projects from a fixed customer base.
Having a consistent core translation team benefits all those involved in a number of ways. For freelance translators, working regularly with familiar texts, technologies and job requirements not only allows them to save noticeable amounts of time, build up technical experience and make more money, but also to identify more with the work they are doing and improve their job satisfaction. We also invest in innovative technologies that save even more time, so that jobs require even fewer clicks, less download time and less administrative effort, leaving more time for the important parts of the job: translating, post-editing and personal contact, which is growing in importance.
As well as preparing the project as perfectly as we can, continually developing ourselves and reducing the administrative work involved in our projects, we are also committed to fair, market-driven and fast remuneration. Being paid within 14 days is a given when working with us.
What type of translator am I?
In conclusion, it's clear that the work and qualification requirements that an agency places on its translators and revisers should reflect its own attitude towards issues such as quality and professionalism, allowing the collaboration to run smoothly and both parties' expectations to match. It's definitely worth taking the time to take a closer look and ask questions.
We have strong confidence in our hand-picked translation partners, who take on a high level of responsibility in each of our projects. That's why we have stringent requirements when selecting new partners. As a result, every application is treated with the same care we give our in-house employees. Applicants go through a more complex application process than at some other agencies, but it can lead to a lasting, respectful and trusting partnership in a highly qualified team.
Agency checklist for freelancers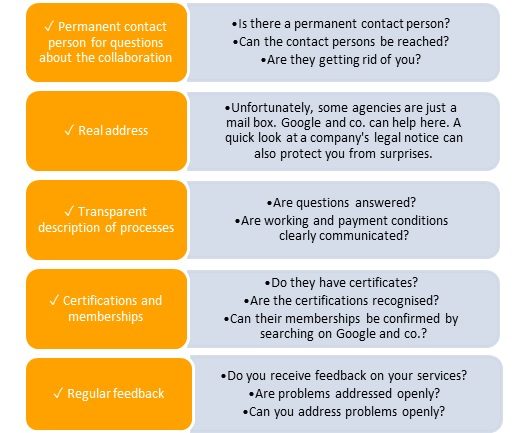 8 good reasons to choose oneword.
Learn more about what we do and what sets us apart from traditional translation agencies.
We explain 8 good reasons and more to choose oneword for a successful partnership.