Translation and localisation system
What is oneSuite?
For some months now, we have been using oneSuite, a browser-based translation and localisation system we developed in-house. It is a kind of digital Swiss army knife with logically related components for professional use. In this post, we introduce it and explain its advantages over traditional systems and services.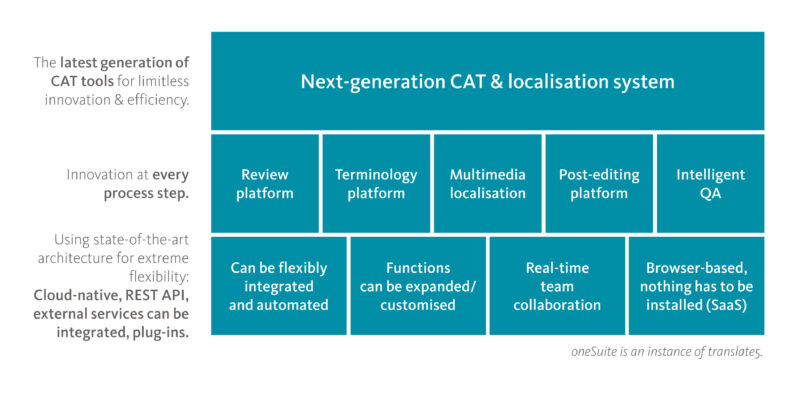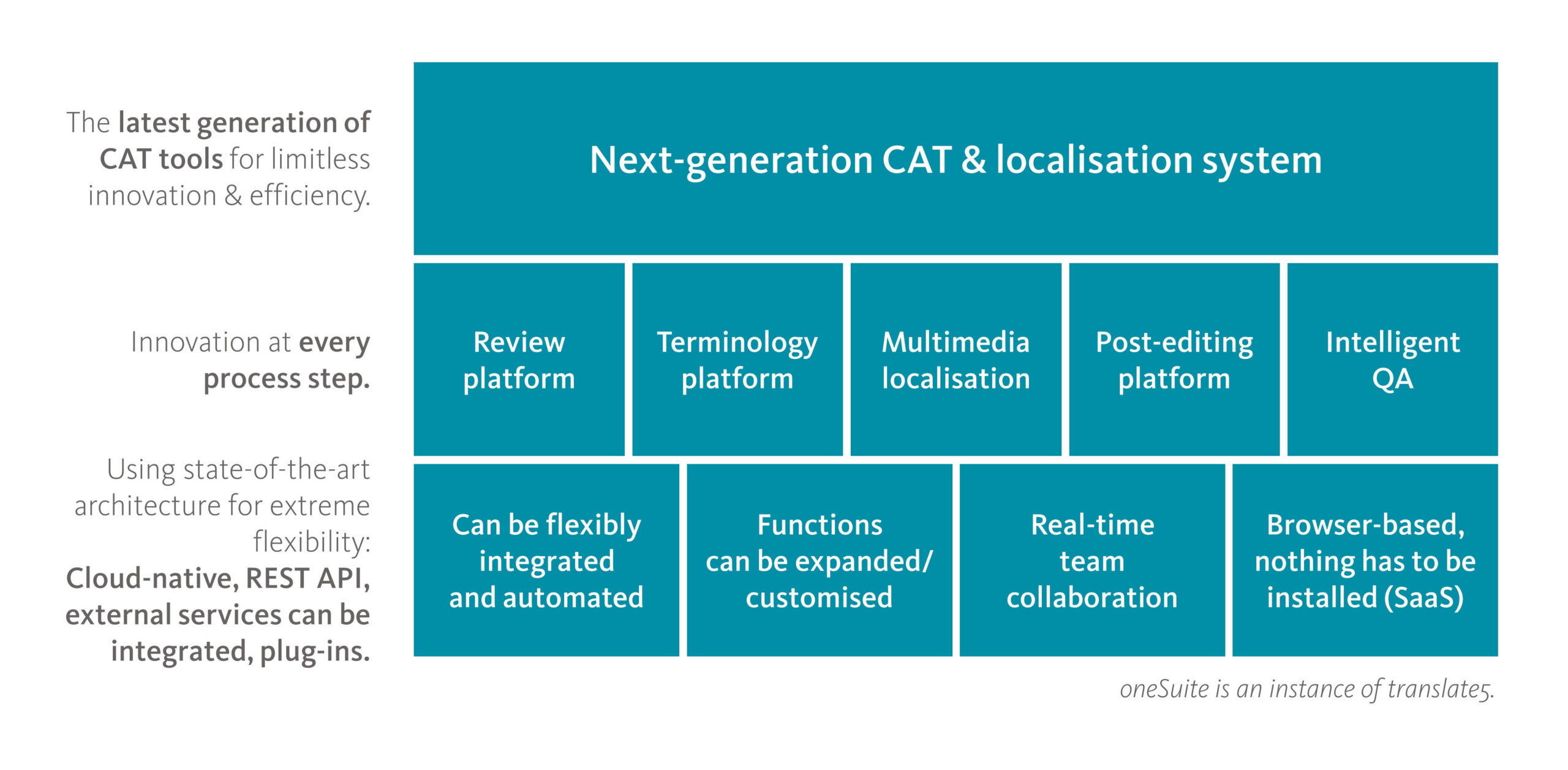 One for all, all for you
The oneSuite translation and localisation system is a next-generation CAT tool. In addition to the traditional functions, such as translation memory and terminology management, the multi-tool seamlessly integrates numerous additional components and functions with logical coherence into a "suite".
Unlike proprietary CAT systems, oneSuite's functions can be expanded and adapted, as it is customisable. External systems and services can be integrated and automated at any time. In addition, the various components can also be used on their own.
oneSuite enables the following process steps:
Translation or machine translation
Post-editing
Terminology management
Reviews
Multimedia localisation
Evaluation and quality assurance
Like all popular CAT tools, the system has an editor in which text from a wide variety of file types can be edited regardless of the format. In addition, oneSuite offers full "what you see is what you get" support for all file formats with a sophisticated real-time preview that is unique on the market.
In multimedia localisation, for example in the localisation of subtitles, the video sequence to be translated is always visible in the preview. For other types of project, such as website or app localisation, the text is also displayed in the preview as well as in the editor.
The oneSuite real-time preview also allows the user to check translation results easily and conveniently in the layout and to make the final corrections. Therefore, it is also ideal for use in customer reviews and in post-editing.
oneSuite has a translation memory component based on t5memory (a modern docker-based cloud service) and a terminology component. Therefore, it supports the seamless integration of terminology and translation memory data in the translation process.
The system is browser-based and therefore does not require any local installation. Different user roles and rights define which components and sub-areas can be accessed. For example, translators have real-time access to the translation memory and terminology during the translation task and are always at the same up-to-date status. Project managers can create projects and assign tasks, terminologists can manage terms.
For seamless collaboration, there are various definable workflows that can be automated. For example, it can be set up so that after a task is complete, the person responsible for the next step receives a message. Alternatively, the users can be assigned automatically when the project is created.
As projects can be assigned to multiple users, oneSuite is also suitable for real-time collaborations, such as urgent translation projects involving a team. The system enables several participants to work on a text in parallel, and only the segment currently open is locked for the other users.
oneSuite is used for a wide variety of applications:
Country-specific corrections/review processes (oneReview)
Translations and localisations
Post-editing
SEO revisions
Deployment of terminology in the company
oneTranslate: data-secure, instant translator (MT) with/without integration of translation memories and terminology specifications (also as an intranet solution)
Machine translation with terminology integration
Website localisation
App localisation
Subtitle localisation
QA evaluations
oneSuite is an optimum solution for cases where companies need to cover a wide variety of roles. While a department needs access to the translation memory systems, in-house translators can use the editor. Subject matter experts can check and approve translations via the review platform and all employees can use instant translations for internal and external communication throughout the company. Each component can also be used on its own.
A special unique selling point of oneSuite is the preview function, which improves text comprehension by displaying the text in context and in the layout and by allowing corrections to be made directly in the layout.
The special features of oneSuite for "regular" CAT applications:
Real-time preview
Several linguists collaborating in real time on a shared task
State-of-the-art cloud-native SaaS, browser-based and data-secure, no installation required
Real-time access to the translation memory and terminology,
all users at the same up-to-date status
Integration of relay languages (also called pivot languages) for reviews when revisers do not understand the actual source language
Terminology check for the source text
The special features of oneSuite for instant translation:
Integration of various MT engines – with DeepL, this includes support for the glossary function
Integration of translation memories
Integration of terminology
Translation of complete files and all formats without volume limits
Intranet-ready, customisable
You can find more information in the blog post "Machine translation for companies: accurate, fast and data-protected with oneTranslate".
oneSuite is an instance of translate5
oneSuite is based on the open source translation system translate5, which we conceived and developed together with other leading international players in the industry – united in the translate5 consortium. Our director Andrea Modersohn has already explained the motives in an article on the launch of the consortium: "All parties involved need a 'stable bank', a translation system that guarantees independence and constitutes a prospectively cost-effective alternative. And that offers such a comprehensive range of services that all individual process demands can be implemented with it."
The common goal was and is to develop and complete a comprehensive translation solution that sets technical industry standards and offers language service providers and companies alike an alternative to traditional systems that may well excellently fulfil individual services but are usually not flexible or can only be combined using paid-for additional components.
Thanks to the open-source approach, the highly scalable cloud infrastructure and the immanent flexibility and expandability of translate5, we have (further) developed this unique basic technology into oneSuite. A next-generation CAT tool. As a multifunctional software-as-a-service (SaaS) with real added value. A translation and localisation system that logically integrates and conveniently connects all applications and process steps of a modern, technology-based translation service.
Do you have translation and localisation work that requires multiple applications to be connected in a meaningful way? Then take a look at oneSuite. Talk to us. Our experts will be happy to advise you on solutions and options.
8 good reasons to choose oneword.
Learn more about what we do and what sets us apart from traditional translation agencies.
We explain 8 good reasons and more to choose oneword for a successful partnership.